Star Wars toy collectors have been keeping a close eye on a special crowdfunding project over the past few weeks. It's by none other than Hasbro and it's for a giant (two feet long and over a foot high and wide) replica of Jabba the Hutt's sail barge from Return of the Jedi. The hope was that 5,000 people would pledge $500 (£356) each to make it—and they did.
We're just the tiniest bit surprised. For a while there it didn't look like Hasbro would make it. A week and a half ago the company hadn't even hit the halfway mark, but as of today, with $2.5 million (£1.8 million) raised and counting, the Jabba's Sail Barge collectible has been fully funded and will be produced for all those who coughed up the dough.
#StarWars fans, you #BackedTheBarge!! Jabba would be proud! #HasLab #BackTheBarge pic.twitter.com/RczPpqj7Qe

— Hasbro (@HasbroNews) March 30, 2018
This is the first project of Haslab, a new initiative by Hasbro that it hopes will drive more collectible toys of this nature. And this Sail Barge is no joke. It'll be the biggest Star Wars toy Hasbro has ever created. Just look at it compared to a more recognisable vehicle, the Millennium Falcon.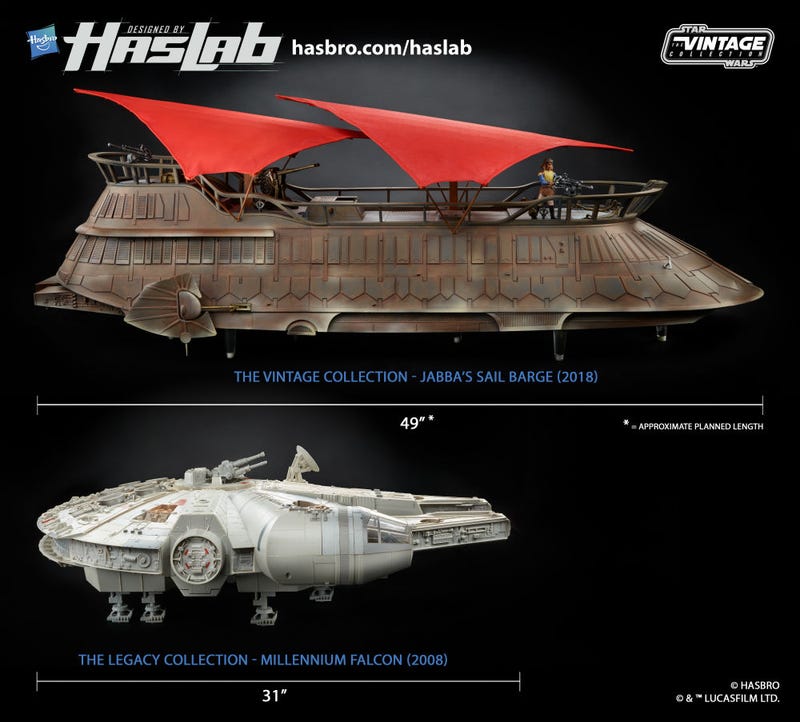 You can still get in on the action on the website but, according to Hasbro, that will be the only way to get a Sail Barge if you so desire. It'll ship early next year. [Haslab]
---
More Toys Posts: