In 1991, Deadpool premiered in New Mutants #98, drawn by Rob Liefeld. Now, art from that landmark comic book is up for auction, and it can be yours if you're willing to shell out the cash.
It's a lot of dosh, though. The page, which features the original art for page 15 of New Mutants #98, currently has the winning bid at $30,000 (around £21,400). The simple, five-panel layout features Deadpool in his first appearance hunting down Cable. In this early appearance, the mercenary is more a Deathstroke the Terminator-alike than he is the later Merc' With the Mouth, but you can already sense a dynamic sort of chemistry between the assassin and the, uh, time-travelling assassin that would come to be an important facet of both characters down the line.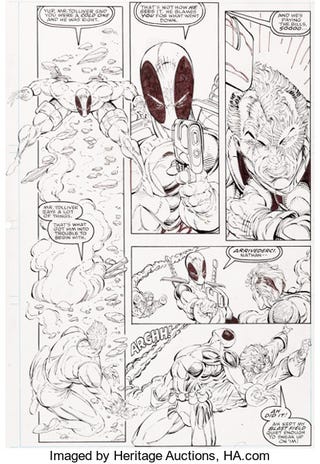 Image via Heritage Auctions.
There are eighteen days left for the initial bidding for the auction, which you can check out here. Deadpool 2 will be out in cinemas May 16, starring Ryan Reynolds as Deadpool and Josh Brolin as Cable. [via ComicBook.com]
---
More Marvel Posts: