I have some bad news if you've created a perfume that has a sweet, slightly musky, vanilla-like fragrance, with slight overtones of cherry, and the natural smell of a salted, wheat-based dough. That's exactly how Hasbro describes the scent of Play-Doh, a smell that many of us associate with out childhoods, and a smell that the toy maker has officially now trademarked.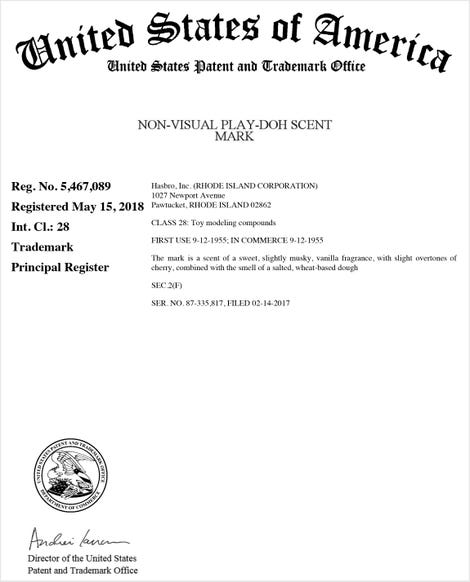 Image: United States Patent and Trademark Office
Although various forms of modelling clay predate Play-Doh by many years, the toy, which was created in 1956 and patented in 1965, has become the "Kleenex" or "Velcro" of nondescript blobs of malleable material. Kids don't ask to play with clay, they ask to play with Play-Doh, which is probably one of the reasons Hasbro decided to trademark and protect one of the toy's recognisable features.
The company has assured us there are currently no plans for litigation now that the trademark is official. "Registering the iconic Play-Doh scent as a trademark gives Hasbro a whole host of fun and creative opportunities in the future, but in the present moment, plans are not currently set," a Hasbro representative told Gizmodo. Does this mean that Play-Doh-scented fragrances on the horizon? [BusinessWire]
---
More Toys Posts: