Spotify apparently no longer wants to promote terrible people across its streaming platform. That's the undercurrent of its freshly announced "Hate Content and Hateful Conduct Public Policy." The meandering statement revealed that Spotify is establishing a number of external and internal policing methods for content.
The first artist affected by this change appears to have been R&B singer R. Kelly. In a statement to Gizmodo, Spotify said: "We are removing R. Kelly's music from all Spotify owned and operated playlists and algorithmic recommendations such as Discover Weekly. His music will still be available on the service, but Spotify will not actively promote it."
R. Kelly, who has faced decades-long accusations of sexual abuse, is back in the spotlight through the campaign #MuteRKelly, which is attempting to further bring attention to the singer who has continued to thrive in the music industry. Spotify collaborated with the singer as recently last year, when he was part of its Secret Genius series that highlighted songwriters across the music industry.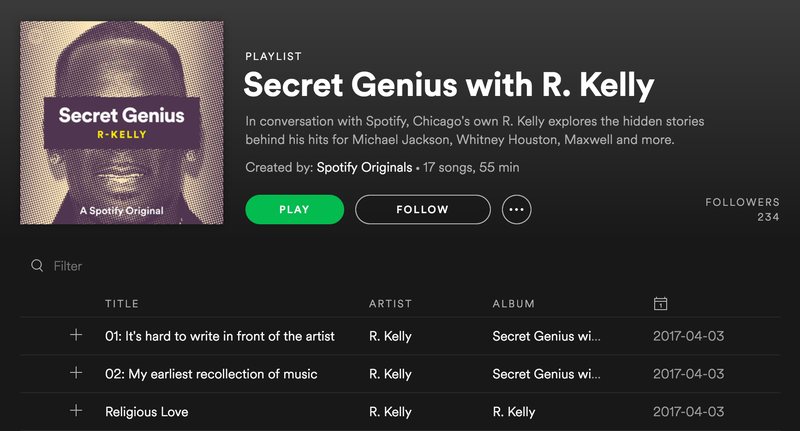 Screenshot: Spotify
A spokesperson for Spotify said this interview was pulled prior to the new policy.
With the new policy, the Swedish music service has partnered with numerous civil rights organisations in the US, including The Anti-Defamation League, Color Of Change, GLAAD, International Network Against Cyber Hate, Muslim Advocates, The Southern Poverty Law Center, and Showing Up for Racial Justice. There is also now a support page for everyday users of the platform to report potentially offensive content.
Managing user-generated content on a platform is of course no small task—just ask YouTube. Still, part of this comes across as a lot of arm waving when you can simply open RapCaviar, a playlist with over 9 million followers, and see music by Famous Dex ("Japan") and Youngboy NeverBrokeAgain ("Diamond Samurai Teeth"), both of whom were allegedly caught on camera beating their girlfriends. [Billboard]
---
More Spotify Posts: