Boeing and SpaceX, owing to manufacturing delays and certification hurdles, are unlikely to provide NASA with the vehicles required to transport astronauts to the International Space Station next year, according to an alarming government report. As a result, and starting in late 2019, the US might not have a crew aboard the ISS for nearly an entire year.
NASA's Commercial Crew Program is in jeopardy, according to a report published this week by the US Government Accountability Office, and a plan is now needed to ensure uninterrupted access to the International Space Station. Failure to do so could result in the US losing its ability to send astronauts to the ISS once NASA's contract expires with Russia's Soyuz programme in November of 2019. The GAO report warns that the US may lose its ability to send astronauts to space for a period lasting nine months or more.
And that sucks. The country that sent astronauts to the Moon from 1968 to 1972 like it was nobody's business, the country that maintained a (reasonably) reliable astronaut delivery service from 1981 to 2011 in the form of the now-retired Space Shuttle Programme, could soon be grounded. It would appear that NASA's shift to using private sector partners, in conjunction with budget cuts, has now made the United States a bit player when it comes to launching crewed missions into space. At least for now.

Image: GAO
In 2014, NASA signed contracts with Boeing and SpaceX to develop vehicles capable of transporting astronauts to the ISS. Collectively, the contracts are worth $6.8 billion (£5.2 billion), according to GAO, but the programs have been beset with delays. The SpaceX Dragon capsule was originally scheduled for early 2017, but it's not expected to be certified until February 2019. Boeing's Starliner, which was supposed to be ready during the third quarter of 2017, has been pushed to January 2019.
So both vehicles could be ready in early 2019, but that's not the problem. The issue as the GAO sees it has to do with NASA's rather vague certification process, which is needed to determine if these new capsules will be safe enough for human spaceflight. The current process requires NASA to assess the probability of a crew member getting killed or disabled during a flight. However, NASA "doesn't have a consistent approach for calculating this metric," which means "results can vary based on who within NASA is conducting the analysis," according to the GAO report. The government auditors say further delays are likely, as the "Commercial Crew Program's schedule risk analysis shows that the certification milestone is likely to slip."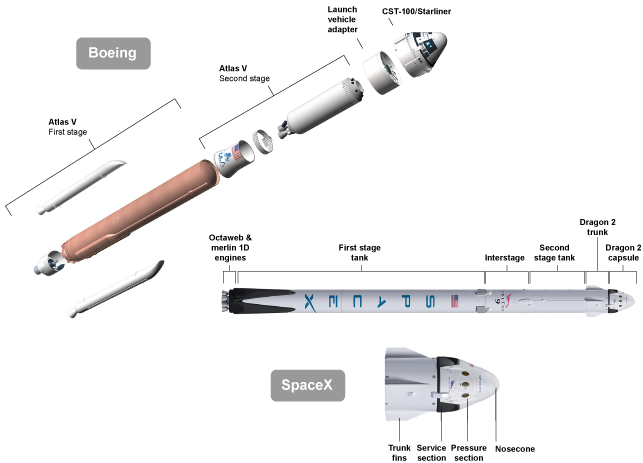 Specs of Boeing's Starliner (top) and SpaceX's Dragon capsule (bottom). (Image: GAO/SpaceX/Boeing)
This presents an obvious problem. With the Soyuz contract expiring late next year, these anticipated delays could result in a gap, possibly lasting nine months or more, in which the United States won't be able to send astronauts to the ISS. NASA could try to book seats aboard future Soyuz missions, but that could be easier said than done. "The process for manufacturing the [Soyuz] spacecraft and contracting for those seats typically takes three years—meaning additional seats would not be available before 2021," notes the GAO report.
It's all very bleak, but the GAO made several recommendations in its report. In addition to regularly sharing its scheduled risk analyses with Congress, GAO says NASA should "develop and maintain a contingency plan for ensuring a presence on the ISS until a Commercial Crew Program contractor is certified." In advance of these capsules being ready, the space agency should do a full review of how it determines risk tolerance levels for its crew. And once NASA has completed the anticipated certification reviews, it "should document lessons learned [relating to the potential] loss of crew as a safety threshold for future crewed spaceflight missions, given the complexity of the metric."
The GAO's recommendations are as vague as they are obvious. Of course, NASA needs a backup plan, and a way to fix this convoluted certification thing. But hey, what more should we expect from government auditors? Their job is to point out the problems, not to solve them. NASA, and especially Congress, which holds the purse strings, need to figure this out. This is all totally not cool. [GAO via AFP]
---
More Space Posts: