Amazon founder Jeff Bezos is making rapid progress on his plan to leave all of us poor suckers behind on this godforsaken planet, and he plans to start selling tickets for suborbital space flights in 2019. On Friday, a new report claimed that the right to be a Blue Origin guinea pig will cost £150,000 to £226,000.
Bezos' net worth increased by £30.2 billion in the last year, and he's increasingly focused on how to spend his vast fortune. The 54-year-old CEO plans to make some sort of announcement about a philanthropic project at the end of the summer, but his real focus is on space travel. As he told the Explorer's Club in March, "The price of admission to space is very high," and "I'm in the process of converting my Amazon lottery winnings into a much lower price of admission so we can go explore the solar system."
Reuters spoke to two unidentified Blue Origin employees about the proposed cost of edge-of-space tourism. From the report:
One Blue Origin employee with first-hand knowledge of the pricing plan said the company will start selling tickets in the range of about $200,000 to $300,000. A second employee said tickets would cost a minimum of $200,000. They both spoke on condition of anonymity as the pricing strategy is confidential.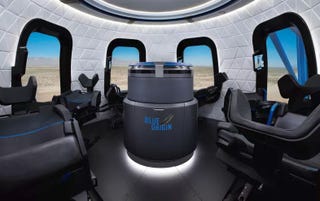 That price range is right in line with what Richard Branson's long-delayed Virgin Galactic service has been charging for its own planned suborbital flights. According to Wired, Branson has sold 700 seats at $250,000 (£189,000) apiece. And as with Virgin's service, the sale of tickets does not mean Blue Origin will get off the launch pad with humans on board in 2019.
No humans have flown on the eight test flights of Bezos' New Shepherd capsule, and three sources told Reuters that the first passengers will likely be Blue Origin employees.
While it's becoming abundantly clear that billionaires are looking to space in order to avoid the inevitable proletariat revolt and climate-change-induced apocalypse, these rich people escape pods will need an escape mechanism in case something goes wrong. One source told Reuters that Blue Origin will soon conduct its first test in space of an emergency system that launches the crew to safety in the event that the booster rocket explodes. That test is expected "within weeks."
One would assume that ticket prices would drop over time as more flights are conducted, but Teal Group aerospace analyst Marco Caceres told Reuters each flight will likely cost Blue Origin up to $10 million (£7.5 million). At his current net worth, Bezos could fully subsidise about 14,850 flights. [Reuters]
---
More Amazon Posts: