Facebook is finally releasing its time-management feature, which will definitely not make you feel bad about yourself.
As expected, the new feature, which is being integrated into Facebook and Instagram apps on iOS and Android, will show you exactly how much time you've spent staring into the void that is your Instagram or Facebook feed, and let you know when enough's enough according to your own limits. Still, with all these activity-limiting features at our disposal, do we have enough self-control to use them?
All things considered, Facebook's new activity-tracking feature is a welcome one. Located in the settings page of either app, you can see a graph charting your weekly use, and establish a daily limit of Facebook or Instagram browsing. That limit functions more like a reminder. After anywhere from 15 minutes to eight hours of Facebook or Instagram stalking, you'll get an "alert" telling you you've exceeded your self-imposed time limit.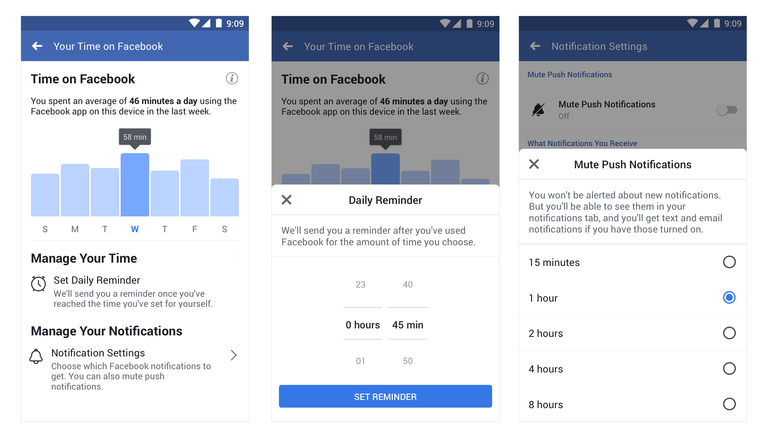 Facebook's "Your Time on Facebook" page. (Screenshot: Facebook)
You can also snooze your Facebook or Instagram notifications for up to eight hours if you, as Facebook put it, "need to focus." Might I recommend turning off Facebook notifications altogether? I'm not convinced people who need a reminder to spend fewer than eight hours on Facebook are capable of dealing with a self-imposed time limit, especially one that's more of a wag of the finger than anything else.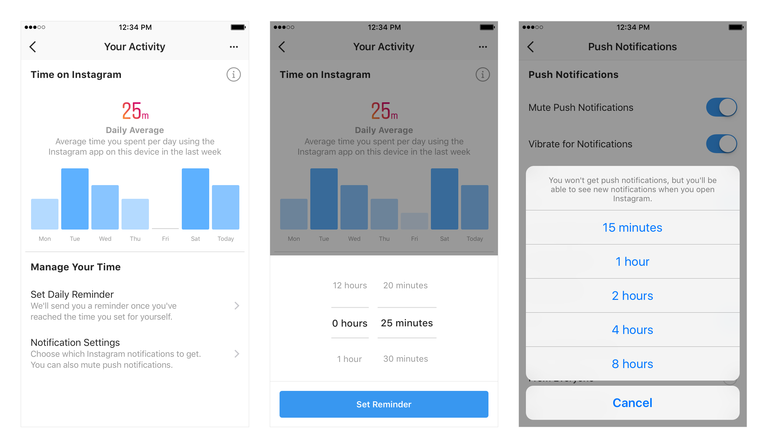 Instagram's "Your Activity" page. (Screenshot: Facebook)
You'll have to turn on the time limits yourself, but the feature is easy to find and is totally not designed to shame you for all that time you and your children have wasted online. Facebook writes:
We developed these tools based on collaboration and inspiration from leading mental health experts and organisations, academics, our own extensive research and feedback from our community. We want the time people spend on Facebook and Instagram to be intentional, positive and inspiring. Our hope is that these tools give people more control over the time they spend on our platforms and also foster conversations between parents and teens about the online habits that are right for them.
Apple and Google are already jumping on the health-and-wellness bandwagon with substantial updates to iOS and Android, respectively. Both have added time-tracking and limits on app use during certain hours, among other features introduced to curb excessive smartphone use. While making users more aware of their activity is helpful, and making it easier to know when there's no more new content to gawk at is nice, Facebook is still a company that makes more money the more time you spend on its platform. So if you still have an unhealthy Facebook obsession, I'm sceptical this little nudge is going to push you back from the brink. [BBC]