Taking a cue from SUVs, fast food joints, and phones, Lego continues its Master Builder Series supersizing efforts with this new Betrayal at Cloud City set that clocks in at a hefty 2,812-pieces and recreates multiple scenes from Star Wars: The Empire Strikes Back. It even includes Slave 1 so Boba Fett can haul Solo's frozen body off to Jabba.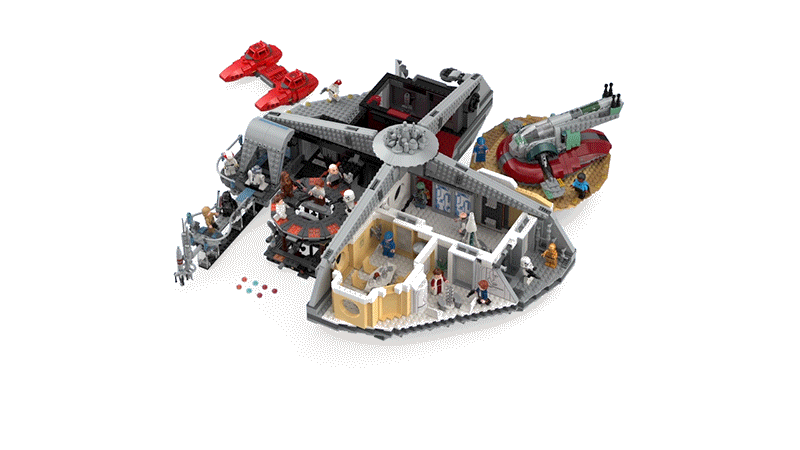 GIF: Lego
It absolutely dwarfs the 698-piece Cloud City set that Lego released back in 2003, and to make up for the lack of any actual clouds, it's packed with every detail a Star Wars fan could need to re-enact the most climactic moments from The Empire Strikes Back. The only thing missing is a gasping audience when Vader reveals (spoiler alert!) he's Luke's dad.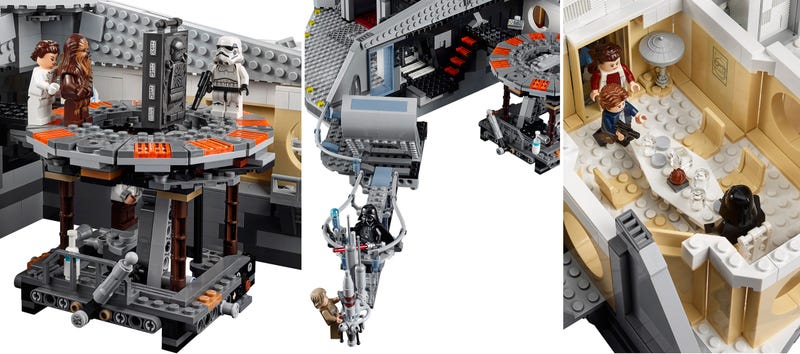 Photo: Lego
Betrayal at Cloud City includes a dining room with a table where Vader can confront Leia and Han, a promenade for shootouts with Stormtroopers, a garbage room with an incinerator where Chewie can rescue C-3PO, and a circling cloud car protecting the towering city.
The set's also got an interrogation chamber, a prison cell, and the all-important, over-dramatic carbon freezing chamber where Han can be turned into a popsicle, and then carted away by Boba Fett. And last but not least, there's the balcony where Luke learns about his father and how much he loved having two hands.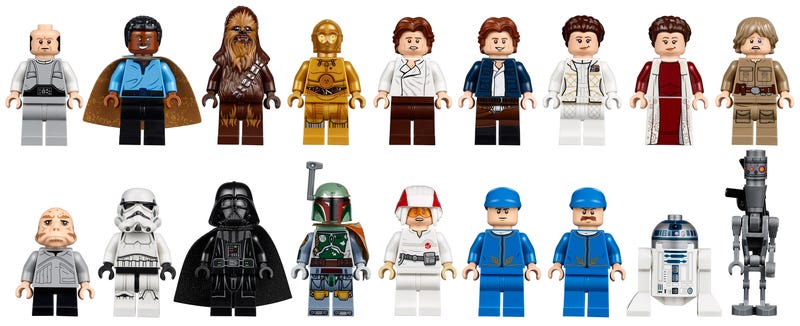 Photo: Lego
Lego's also included 18 minifigures with multiple facial expressions and costumes, as well as two droids: R2-D2 and a de-activated IG-88. The Millennium Falcon and Luke's X-wing didn't make the cut (your other sets will have to join the party), but the scaled-down version of Slave 1 that did could almost be a standalone set in and of itself. It also helps explain Betrayal at Cloud City's £299 price tag when it's available starting on October 1 — no one would judge you for betraying your friends if the Empire helped you afford this one.