President Trump's first tweet of the day, sent at 5:24am local time, has accused Google of rigging search results against conservatives. Right-wing media personalities often claim, without evidence, that companies like Twitter and Facebook are conspiring against them, but Google search results aren't often part of that conversation. They certainly are now.
"Google search results for 'Trump News' shows only the viewing/reporting of Fake New Media. In other words, they have it RIGGED, for me & others, so that almost all stories & news is BAD. Fake CNN is prominent. Republican/Conservative & Fair Media is shut out. Illegal?" President Trump tweeted.
The tail end of President Trump's first tweet started with a percentage and his next tweet described how "dangerous" it was that Google was "suppressing voices of conservatives."
"96% results on 'Trump News' are from National Left-Wing Media, very dangerous. Google & others are suppressing voices of Conservatives and hiding information and news that is good. They are controlling what we can & cannot see. This is a very serious situation-will be addressed!" President Trump concluded.
The first thing that users currently see when googling the term "Trump news" in incognito mode on Google is a news story from Fox News: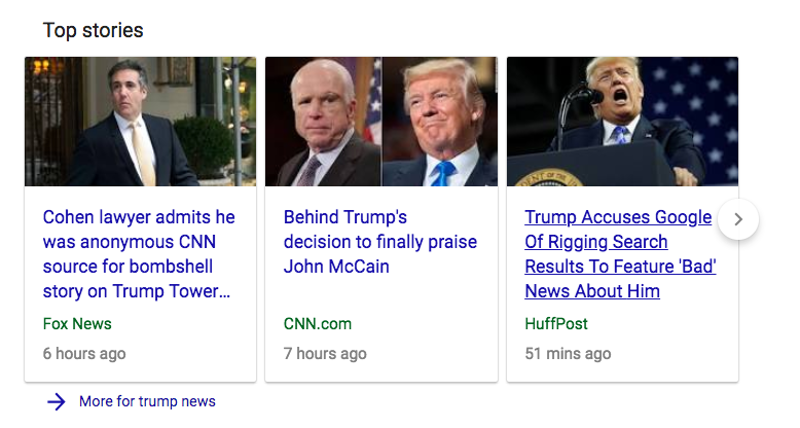 Screenshot from Google results for "President Trump" at 6:36am ET this morning. Screenshot: Google
President Trump may not like the news stories about him, but his personal lawyer, Michael Cohen, has pleaded guilty to a number of charges and named the president as the one who asked him to make illegal hush payments before the 2016 presidential election.
The results further down the page, in order, include a Fox News report about Michael Cohen being a source for a CNN news story, a Fox News report about Peter Thiel praising Trump for his "honesty," and a New Yorker story about President Trump being "nuts."
Conservative politicians like Texas Senator Ted Cruz have also claimed that right-wing personalities have been silenced on platforms like Twitter and Facebook, but this is the first time that President Trump has warned he will do something about it. Conservative commentators Diamond & Silk even testified to Congress back in April, but things got ridiculous quickly. The two Trump-supporters denied that they had been paid by the Trump campaign, something that is contradicted by FEC reports. The pair actually received a total of $1,274.94 (£988) in 2016.
President Trump has threatened a number of private American businesses during his tenure, including everyone from the Washington Post and Amazon to Harley Davidson with higher taxes. But it will be interesting to see what he does to punish Google. Unlike Apple, Google hasn't been quite so cosy with the president this year. Apple CEO Tim Cook recently met with the president at the White House and there are reports that Trump has promised he won't slap tariffs on Apple products like he has with others.
Gizmodo has reached out to Google for comment and will update this article when we hear back.