With an ear-splitting howl and booming surf, Hurricane Florence has arrived in the US, on the coast of state North Carolina. The storm could be a landmark event that breaks rainfall records, leaves waterways flooded for weeks, and reshapes the Carolinas coast for decades.
Time lapse of flag ripped to shreds by Hurricane Florence.

A testament to its power & duration. (https://t.co/WUeAfe3mvB) pic.twitter.com/2xvr9bIivA

— Dakota Smith (@weatherdak) September 13, 2018
Florence is a super-sized, powerful Category 2 hurricane with tropical storm-force winds extending 195 miles out from its core. Meteorologists on the ground are reporting gusts in excess of 90 mph, indicating Florence is packing a major punch. It should go without saying but do not try this at home.
In the eye wall of #Florence east of downtown Wilmington and the wind is roaring. The airport just gusted to 91 MPH.
The eye is right along the coast:https://t.co/xG1DwLZQ8B pic.twitter.com/vYMgXKJ6f0

— Mike Seidel (@mikeseidel) September 14, 2018
#Wilmington currently in the eyewall of #Florence - winds gusting 90+ mph pic.twitter.com/7sFyyZM33D

— Alexandra Wilson (@TWCAlexWilson) September 14, 2018
Over 150,000 people in North Carolina are without power, which could persist for some time. Paige Sheehan, a spokesperson for local utility Duke Energy, said on Wednesday that the company had 20,000 workers at the ready to restore power, but that it was warning customers they could be without power for weeks.
"People who have spent their whole career here who have not seen an event like Florence," she added.
We could see days on end of high tides, hampering rescue efforts and increasing the risk of homes being washed away. Roads from the state's Outer Banks have been closed and ferries have stopped running as storm surge cuts across the islands, carving new inlets, stirring sea foam, and clawing at the foundations and stilts lifting homes above the normally tranquil beach. Storm surge is expected to reach up to 13 feet, inundating coastal lowlands. That soggy ground also means that winds will have an easier time toppling powerlines and leading to outages. "Significant flooding" is also occurring on rivers according to the US National Weather Service.
Storm surge is the deadliest consequence of hurricanes and we're already seeing some effects from Florence. Watch as an interior wall is ripped off a frame from a beach house near the coastline as captured by our field correspondents. pic.twitter.com/nc5MyC9ckN

— WeatherNation (@WeatherNation) September 13, 2018
Storm surge is one of the clearest climate change links when talking about Florence. Higher seas mean higher surge. But it's an exclamation point on an unfolding disaster: Wilmington, North Carolina saw 84 days of floods on sunny days in 2016.
Extra-tropical storm surge guidance suggests coastal #flooding over 7, maybe 8 high tide cycles, including this late AM's high tide, perhaps through Sunday, if not Sunday night. Wow. #Florence pic.twitter.com/BY3kJ7qwKk

— Jonathan Erdman (@wxjerdman) September 13, 2018
States of emergency have been declared from Georgia to Maryland, underscoring just how wide Florence's impacts could be. North and South Carolina as well as Virginia have ordered evacuations for coastal counties. The orders affect 1.5 million people, though some have chosen to ignore them.
That is a speed limit sign in Oriental North Carolina has the storm surge continues to rise pic.twitter.com/BDm3E1Z7b8

— Mark Sudduth (@hurricanetrack) September 14, 2018
If you've kept an eye on Twitter during the run up to Florence, there's a good chance a visualisation of storm surge, from the Weather Channel in the US, hit your timeline. If you haven't watched it, I'd urge you to. I've studied and written about this stuff for a decade, and it hit home for me in a very visceral way. Storm surge is a true force of nature. This is why there were mandatory coastal evacuations.
Storm surge will be a huge factor for Hurricane #Florence Check out what it might look like with @TWCErikaNavarro: pic.twitter.com/TPqTZTmiAM

— The Weather Channel (@weatherchannel) September 13, 2018
Once again, astronauts have the best view of Florence. Insulated from the fury of the storm and with a birds eye view, the Space Station affords a unique perspective of the fury Earth can unleash. Luckily we can also catch a glimpse of what they're seeing from an HD camera mounted on the Space Station, which captured Florence minutes after landfall on Friday morning. The view is a bit vertigo-inducing, but well worth your time to truly understand the scale and size of this storm.
Water rescues are happening just as high tide hits. Rescue workers are using boats and high clearance vehicles to respond to people stranded in the floodwaters in James City, which sits next to New Bern. That's where some of the most dramatic footage of Florence's flooding has come from. Swift Creek—just upstream of New Bern—is currently in major flood stage according to the US National Weather Service. The images emerging of first responders putting people in boats and ferrying them to safety are surely the first of many.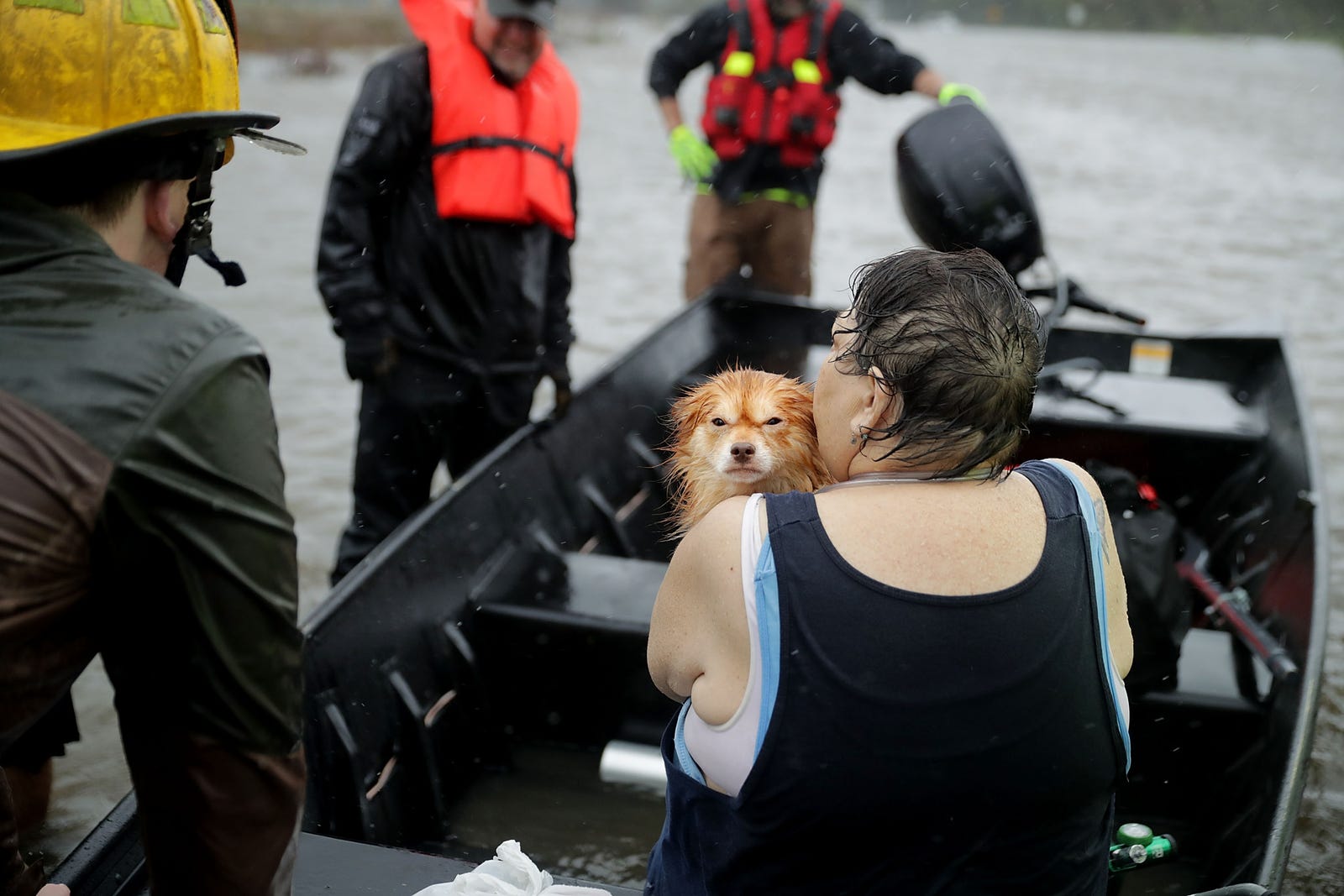 Photo: Getty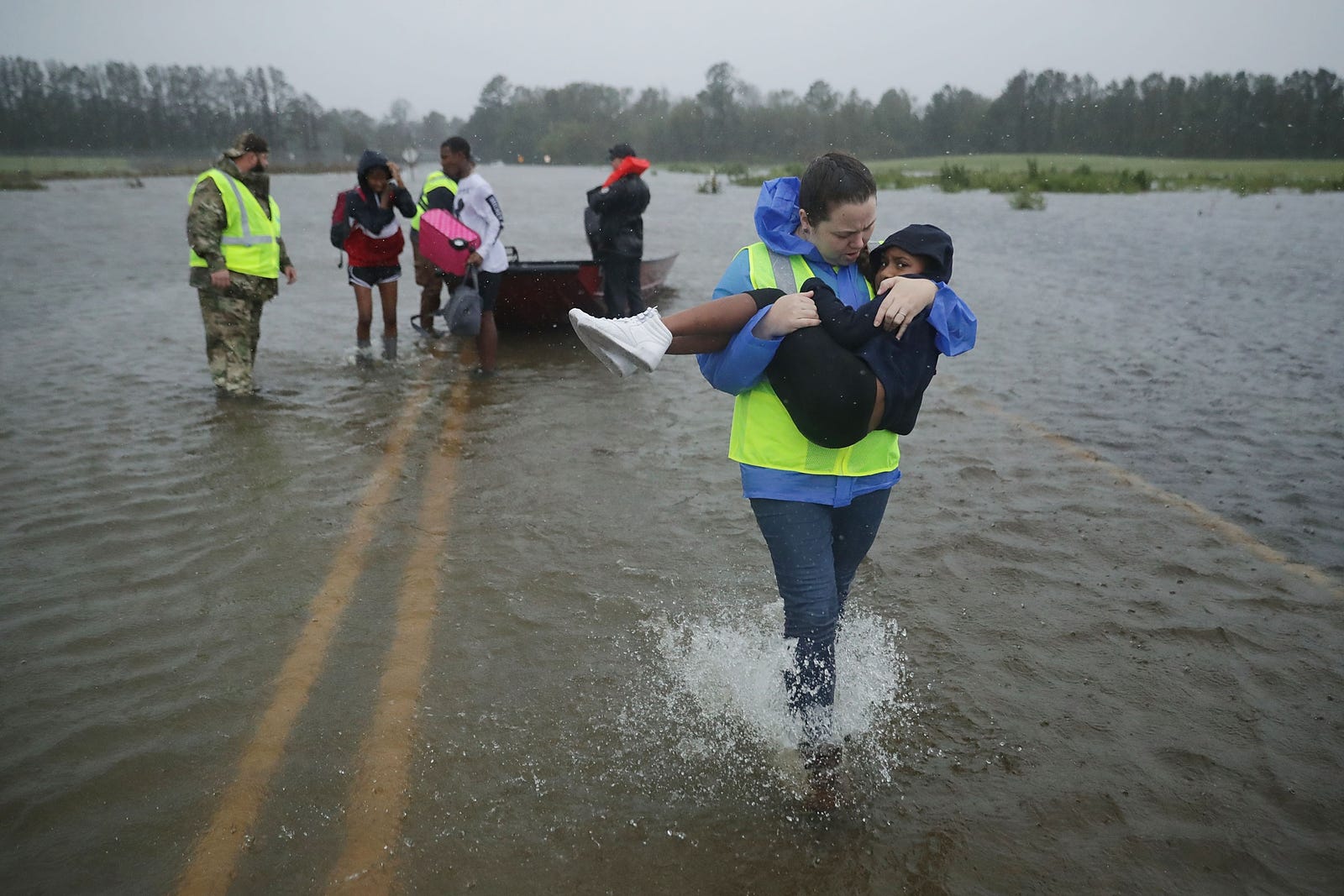 Photo: Getty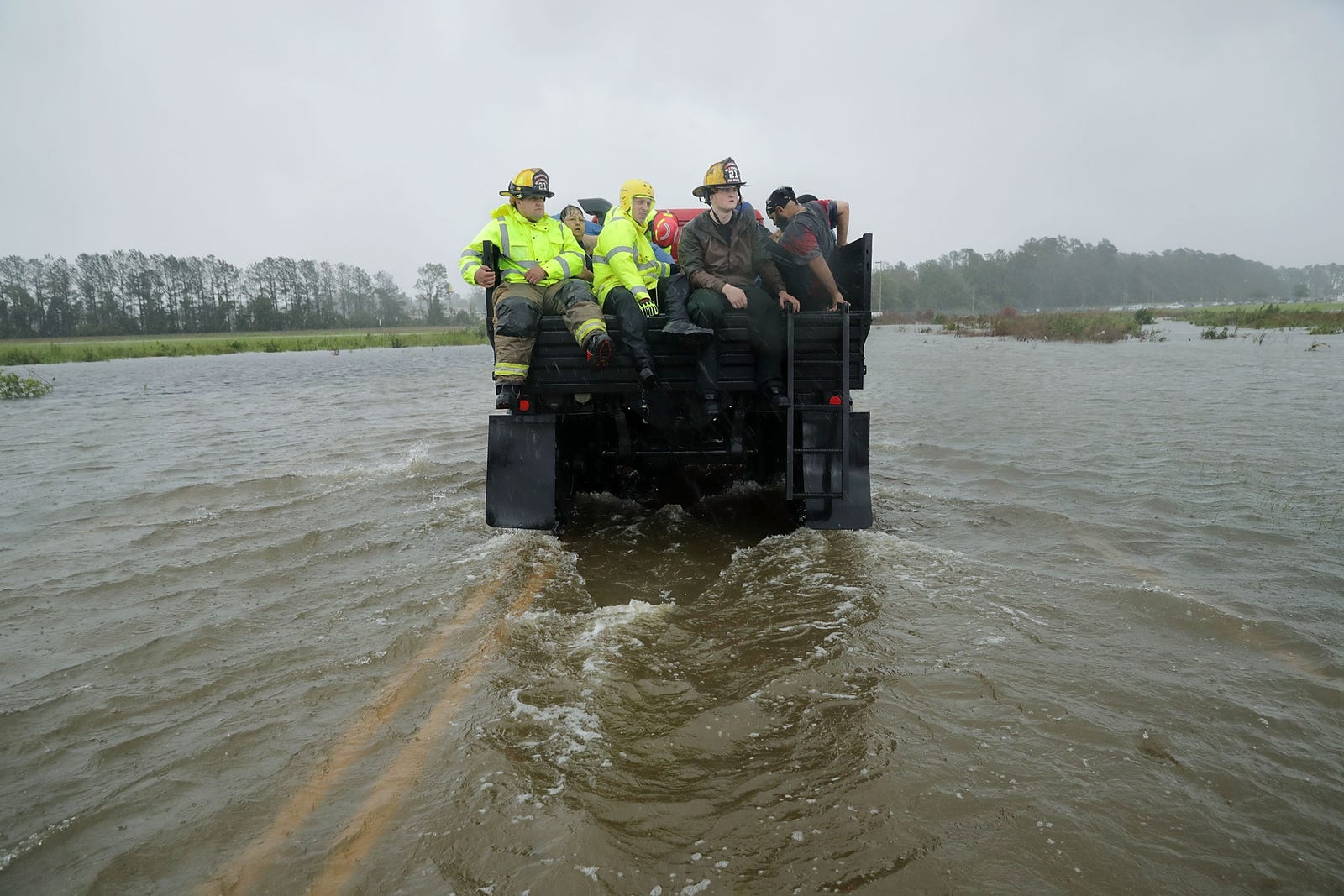 Photo: Getty