A cheap, £10 barbecue lighter is an easy and safe way to light a candle. But if you demand maximised convenience for every aspect of your life, the Lumos Candle will automatically light its own wick for you, its creators say, with a simple push of a button. It's technology for technology's sake, and the best kind of overkill for the gadget-obsessed.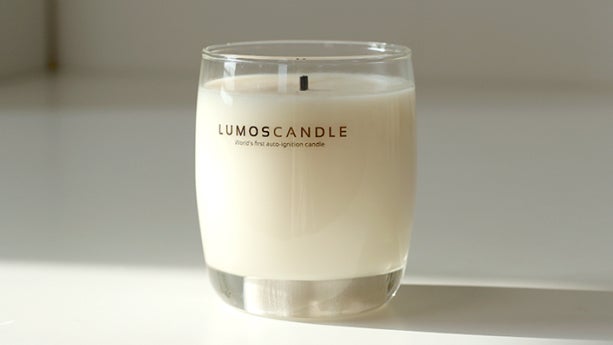 Photo: Lumos Candle (Indiegogo)
The replaceable Lumos candles are made from soy wax infused with scented oils like vanilla, lavender, and peaches, and while they use a wooden wick instead of cotton, they seem to ignite and burn like any other scented candle. It's possible you could even use a regular old match to light them, but that's not why you'd shell out $58 (£45) for the Lumos starter pack.
When placed on a special base, the Lumos candles will auto-ignite their wicks with a real flame, and burn for about 40 hours before needing to be replaced, according to its creators. The base is rechargeable, so it doesn't need to be tethered to an outlet, allowing you to place the candles wherever you want. Its creators promise the base's battery only needs to be topped off with a USB cable about every four months—but that's assuming you're only lighting the candles about four times a day. At first, the absurd novelty of self-lighting candles might have you pressing that ignition button more frequently than that.
There are certainly a few theoretical advantages to the Lumos Candle system: You never need to hunt down matches or a lighter, and there's no risk of singeing your fingers when trying to light a wick that's burned close to the bottom of the glass jar. But those certainly aren't problems that have prevented the scented candle industry from thriving. The Lumos Candle is undoubtedly one of the least essential upgrades for your home, but somehow that hasn't stopped it from surpassing its crowdfunding goal on Indiegogo.
If you take the plunge, it might be a better idea to opt for one of the pricier multi-candle bundles (six candles plus the pad will set you back $144/£111, oof!) because the Lumos base only works with the specially-designed Lumos candles. In other words, you can't just run to your local Habitat to get self-lighting replacements. They're only available from Lumos, and if the company ever hits a financial stumbling block, as most crowdfunded products and companies do, you'll have no choice but to return to a decidedly less magical life of match books. [Indiegogo via New Atlas]