You can't keep a good superspy down.
That's why, only a year after being, uh, killed off in Secret Empire, a post-resurrection Natasha Romanoff, aka Black Widow, is going to be returning to her own solo series in the hands of a new and intriguing creative team. As reported by The Hollywood Reporter, based on an announcement made this weekend at New York Comic Con, Black Widow will be written by Jen and Sylvia Soska, a creative duo best known as the writer and director team behind several cult horror films. The two have made American Mary and Dead Hooker in a Trunk, and are currently working on an upcoming remake of David Cronenberg's Rabid. The artist is Flaviano Armentaro.
The two have some history in comics before, with a smattering of Marvel Comics work and an original graphic novel called Kill-Crazy Nymphos Attack.
"Our Natasha will be true to the Natasha we all love," Jen Soska said of their interpretation of the character, as quoted by Bustle. "But she is not in a good mood. You won't see her feeling bad for putting more red on her ledger. She enjoys what she does. She's damn good at it. She's fearless. She's lethal. She's unstoppable. She's the last person you want coming for you. Our Natasha isn't following anyone's rules so she's completely unleashed."
This new interpretation of Natasha will hit shelves January 2019. Here's an image of the cover of the first issue: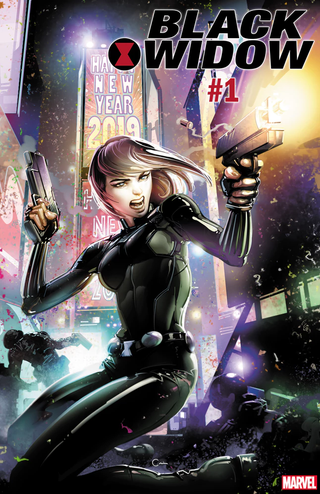 She's back! (Illustration: art by Clayton Crain)