Whenever I'm building a more complex Lego model, there's always a moment or two where I really can't see how it's all going to work. But then one or two steps later, everything suddenly clicks into place, and I'm left thinking "wow, that's clever." Lego's latest Ideas set, the Pop-Up Book (21315) has plenty of those moments. And even now, days after finishing building it, I'm still blown away by its ingenuity.
Officially announced earlier this month, the Pop-Up Book comes from fan designers Jason Allemann and Grant Davis who originally submitted the idea to Lego Ideas back in 2016. Their original idea has been spruced up by the Lego design team and brought to life as a proper set that's available to buy from today. Containing 859 pieces and retailing at £60, it's not the cheapest set out there, but I'd wager it's one of the few recent releases that's truly worth its value. This set is just beautiful on the outside – and incredibly clever on the inside.
The first part of the build is the actual book – well, a shell of a book. This is the part that's changed most from Allemann and Davis' original design, and the finished product looks fabulous. If you're interested in finding out more about the design process, Jason Allemann has made a video showing various iterations of the pop-up book over the last few years. It's pretty interesting to see how it's developed. And while he may lament a few of the changes made by the Lego team, one that they've done a fantastic job of is breathing some life into this book cover. It really does just look like an actual old-fashioned hardback - the brown edging detail really brings it to life. And that 'Once Upon a Brick' logo? It's one big printed brick! A PRINTED BRICK! I really expected that to be a sticker, so I was very pleasantly surprised. The 'Allemann' and 'Davis' author names underneath are also printed too – and a very neat little tribute to the set's designers.
Because the outside of the book is mostly all green (minus the brown edging) it means that the first stage of the build isn't the most exciting.
Bags one and two (of six) are simply a sea of dark green bricks. And while it's a very nice shade of green, putting together a pile of similar-looking bricks is never the most fun part of a Lego build. After the first two bags are done, you're left with a half-finished shell of a book, which looks pretty ugly.
But it doesn't stay funny-looking for long. The studs are there to allow the detailing to pop right onto the front, so a few steps later, into bag three, you have a fantastic-looking book jacket in front of you:
The Lego Pop-Up Book is technically two models in one – there's just one outer book, but it comes with two separate pop-up models to insert into the middle. The first is a Little Red Riding Hood cottage, which is very similar to one of the original designs submitted to the Lego Ideas programme. The second is completely new, dreamed up by the actual Lego team: a Jack and the Beanstalk set-up. The cottage is perhaps the nicest-looking model, but the Jack and the Beanstalk setpiece is the most technically impressive: not only does it pop-up, but it also has an extendable beanstalk. But we'll get to that in a moment.
The rest of bag three and all of bag four are dedicated to putting together Little Red Riding Hood's cottage. It's a cute little building, with textured brick detailing, a rounded door and latticed windows. Also for this scene is a separate bed and table, attached to their own 8x6 plates to attach to the base of the book. It's a nice little additional detail if this set's going to be used as a playset, but they're pretty basic and don't add much to it as a display piece.
The Technic-style rods you can see underneath the cottage is the simple (but ingenious) mechanism that makes the building pop up as the book is opened. Basically, there are two short dowels that slot into each end of the model. Each dowel is then pegged onto the base of the book, but can still rotate as the book opens and closes.
It's a much simpler mechanism than I expected the pop-up part of the model to need, but it works brilliantly. Look!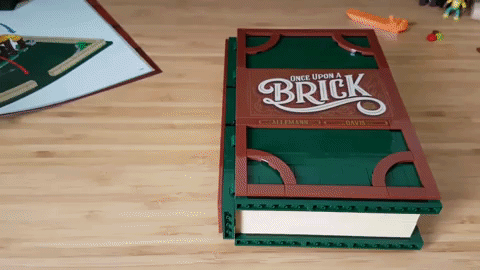 Book goes up, book goes down!
In Jason Allemann's making-of video, the earlier pop-up models he showed off used a much more rudimentary pop-up mechanism, involving rubber bands. That seemed to work pretty well too, but the Technic pieces are much more robust and seamless.
As I alluded to earlier, most impressive is the Jack and the Beanstalk model. This has a pop-up base, shaped like clouds and some teeny-tiny rooftops and trees, but the stand-out feature is a tower on top of a beanstalk that not only pops out but also extends as the book opens. And all that makes that work is a few simple pegs and an anchored piece of string. Mind. blown.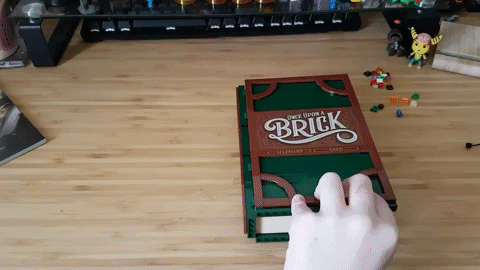 Since I built it, the Pop-Up Book has been sat on my desk and I can't help but open it every once in a while just to go 'ooooh'. It really is a lovely set.
Also included with the Pop-Up Book are four minifigures – Little Red Riding Hood, Grandma and the Giant. There's also a tiny microfigure to represent Jack. Well, two actually – he's that teeny you get a spare.  I'm not a massive fan of microfigures, but the four full-size minifigs in the set are very nicely detailed. Although we've seen similar minifigs in previous sets and series packets, the four included in this set are new. Red Riding Hood is especially neat with her skirt and cape hood, which is actually a separate hair piece.
Perhaps the only minor complaint I can make about the Lego Pop-Up Book is that, since it comes with two separate inserts, it makes it rather hard to store or display. I suppose you just need to choose your favourite model and put the other back in the box. It's a shame there's not quite enough room inside the book to keep everything in there when it's closed.
There are also no studs inside the book to place your minifigs should you want to set it out like a diorama or use it as a playset. Interestingly, this was something that Allemann alluded to in his making-of video. Earlier versions of the book did have plenty  of random studs to allow it to be better used as a playset, but these were removed from Lego's final version.
On its box, the Lego Pop-Up Book states it's for ages 12+. No doubt that references the more complicated parts of the build, but I'd say this is a set for all ages. Older children and adult Lego collectors will appreciate its beautiful design, but its subject matter – fairy tales – is something that will be enjoyed most by children much younger than 12. Basically, what I'm trying to say is, the Lego Pop-Up Book is gorgeous. It's fun, it's cleverly put together, and it looks great on display. No matter your age, if you enjoy Lego, this really ought to be in your collection.